This Weekend in #ILoveGayPalmSprings
May 4–6, 2018
This weekend in your Gay Desert Guide: The 25th annual Evening Under the Stars, featuring Gladys Knight; Blatino Oasis celebrates gay & bisexual men of color; Palm Desert offers their final First Weekend celebration of the season, and some great weekend theater choices are still playing. Looking ahead, we have Hot Rodeo and the Film Noir festival, and Harvey Milk Diversity Breakfast is just around the corner. Mark your calendars for three upcoming film festivals, and don't forget to check out this week's HOT DEALS and Happy Hour highlights!
---
Evening Under the Stars is Here!
Evening Under the Stars takes place this weekend: Saturday, May 5 with cocktails at 5:30 p.m. and dinner at 7:30 p.m. The premier fundraiser for AAP Food Samaritans celebrates its 25th Anniversary at the O'Donnell Golf Club, literally under the stars. A short awards program will recognize a few inspirational honorees, followed by a delicious dinner, and a performance by the incomparable Gladys Knight. The evening will end with a spectacular fireworks display around 9:45 p.m. Suggested attire this year: "Festive & elegant in silver and pink. Be creative!" Get tickets
---
Blatino Oasis: California's Largest Gay/Bi Men of Color Retreat
Started in 2007, Blatino Oasis this weekend celebrates its 12th annual retreat for gay and bisexual men of color from Friday, May 4 through Sunday, May 6. Events include a Cinco de Mayo Pool Party, Fetish Dance Party, Kings Supporting Kings Brunch, and don't miss the Kick Off Dance Party on Friday, May 4 at 9:00 p.m. at Trunks Nightclub in Cathedral City. More info
---
Happy Hour at Streetbar on Arenas is known for their Top Shelf daily specials such as Makers Mark bourbon, Grey Goose Vodka and Jack Daniel's Whiskey! You can guarantee to be served by at staff member who will know your name and your drink by the third visit. Join them this weekend for Cinco De Mayo festivities including refreshing cocktails, entertainment, and chips & salsa!
Looking for somewhere awesome to unwind that's got something fun going on every day of the week? Chill Bar on Arenas is just that! And you haven't truly experienced Sunday Funday until you've experienced it at Chill. They've got everything from drink specials to life size jenga. And not to mention the addicting trail mix offered at the bar that is sometimes your saving grace at the end of the day! Visitors and locals alike love Chill bar because they treat everyone like family. With a happy hour that runs from opening to 7 PM and a late night happy hour from midnight to closing, the fun never stops!
DID YOU KNOW our Happy Hour Finder now includes Drag Shows, Nightlife along with all the Featured Happy Hours? Always available on your mobile phone when you add us to your Home Screen, like this.
---
Palm Desert's Final First Weekend of the Season
First Weekend Palm Desert celebrates the end of another successful season this weekend, May 4–6, with a dive-in movie, and all of your First Weekend favorites, including El Paseo Art Walk, First Friday at The Galen, and a classic car show. Palm Desert also kicks-off its free Spring Concerts in the Park on Thursday, May 3, at 7:30 with a live performance by Ambrosia at Palm Desert Civic Center Park. More info
---
Hot Rodeo Next Weekend
The 2018 Palm Springs Hot Rodeo will take place May 10–13, 2018, and while the Saturday and Sunday competitive rodeo events take place at the A.C. Dysart Equestrian Park in Banning, there's plenty of Hot Rodeo fun happening right here, including a Hot & Wet Cowboy Pool Party at Hot Rodeo host hotel Baymont Inn & Suites, on Friday, May 11 from 1:00 to 5:00 p.m. Later that night, headlining performer Brandon Stansell will be at the Out Behind the Shed Kick-Off Party at the Tool Shed. Other events include a Saturday night Dancing Under the Stars sponsored by Chill Bar, and a Thursday night Dance Contest at Hunters. See the full schedule and get tickets here
---
Harvey Milk Diversity Breakfast Coming Soon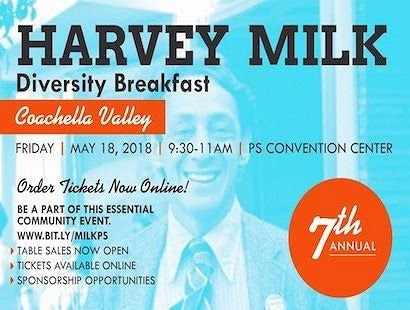 The 2018 Harvey Milk Diversity Breakfast – Coachella Valley will take place on Friday, May 18 at 9:30 a.m. at the Palm Springs Convention Center. The program will honor the memory of Harvey Milk, an American hero, and strengthen coalitions among the many diverse community organizations that support justice and equality for all individuals. Join more than 900 diverse Coachella Valley residents and celebrate the memory of this influential civil rights activist. Get tickets
---
Arthur Lyons Film Noir Film Festival
Founded in 2000 by the late mystery author and Palm Springs community leader Arthur Lyons, The Arthur Lyons Film Festival returns next weekend, May 10–13, and features an eclectic mixture of landmark and obscure vintage movies from the classic film noir era. Tickets and passes are now available, and the complete schedule can be viewed here. Laden with period post war cynicism, these glorious black and white films are all about suspense, sexuality and crime portrayed from the perspective of the criminals. Get tickets
---
Upcoming Film Festival Dates Announced
Palm Springs International ShortFest 2018 takes place June 19–25, 2018 at the Palm Springs Cultural Center. ShortFest is the largest and best attended short film event in North America. More info
The Palm Springs International Film Festival (PSIFF) has announced the dates of its 30th Season: January 3–14, 2019. Passes, Opening and Closing Night Tickets available August 1, 2018 @ 9am. Individual film and event tickets will be available for purchase in December. More info
Cinema Diverse, the Palm Springs LGBTQ Film Festival, will be held September 20–23, 2018 at the Palm Springs Cultural Center. More info
---
Weekend Theatre
The Desert Rose Playhouse presents the world premiere of a new play, Dare, by Allan Baker, playing Now through Sunday, May 13. Read Dare – Reviewed by Stephen Radosh on our website. Gerontologist Josh has been sent to interview 82-year-old gay activist and stage director Jack to see why he wants to end his life. Jack illustrates in flashbacks the fantastic and inspired tale of his activist life, his one great love, and his plan to stage his "Curtain Call" as carefully and beautifully as he has staged his plays. Get tickets
Coachella Valley Repertory Theatre presents 2 Across, through Thursday, May 20. Two strangers alone on a train, each is married, both are doing the New York Times crossword. She's an organized, sensible psychologist. He's a free-spirited, unemployed ad exec. Two opposites in an enclosed space, attacking each other's values but also being swayed and intrigued by them. Get tickets
---
Gay Wine Weekend Individual Event Tickets On Sale Now
Out in the Vineyard presents "three days of gay" at Gay Wine Weekend from July 20–22, 2018 in Northern California's magnificent Sonoma Valley. If you didn't snap up one of their Advance Sale VIP passes last month, you can now purchase individual event tickets, some of which have already sold out, but there are plenty of wine tours, parties, and their signature event: Twilight T-Dance at Chateau St. Jean. Get tickets
---

New HOT DEAL alert! Do you love the taste of great coffee? Because we sure do! And we love the Desert Sunrise Blend from the Coachella Valley Coffee Company. With this hot deal you can get up to two bags of their Desert Sunrise blend for just $7.55 each! Don't let this hot deal pass you by, After all, life is too short to be drinking bad coffee.
Thai Smile is a Palm Springs staple in the perfect location, conveniently located just a block away from Arenas! The menu offers healthy, high-quality flavors from Thailand. They have an extensive array of vegan and vegetarian options as well. They're stocked with a full bar and have happy hour specials too! And this week only, you can purchase up to TWO Hot Deals! What a steal! Enjoy $25 worth of delicious food and drinks at Thai Smile for just $17.50.

---
Top Five Bookmarks of the Week on GayDesertGuide.LGBT
Bookmarks are articles from news sources around the globe, which have featured stories about the Coachella Valley and the great things that happen here. So follow us on social media and keep up with news from sources far and wide.