This Weekend in #ILoveGayPalmSprings
May 11–13, 2018
This weekend in your Gay Desert Guide: Hot weather and Hot Rodeo has arrived! If you want to keep it cool (and dark), head inside for the Arthur Lyons Film Noir Festival, going on this weekend as well. This past week, we celebrated our own Brad Fuhr being honored by the Desert Business Association, and CVRep celebrated their new home. Looking ahead, we have the Harvey Milk Diversity Breakfast, and for entertainment: Sammy Hagar is coming the The Show, and this is the final weekend to see the world premiere of Dare at the Desert Rose Playhouse.
---
Brad Fuhr of Gay Desert Guide Recognized by DBA
On Monday, May 7, The Desert Business Association held the 2018 DBA Business and Community Service Awards, honoring our very own Business Person of the Year: Brad Fuhr of Gay Desert Guide! Congratulations to Brad and the other 2018 honorees: Renova Energy, Palm Springs Sisters of Perpetual Indulgence, Barbara Carpenter, The L-Fund, and Linda Stevens. (Pictured, L-R: Gay Desert Guide's Listings Editor Alex McCune, Found Brad Fuhr, and Restaurant Reviewer David Gray).
---
Hot Rodeo Is Here!
It's been a hot week here in the desert, and the 2018 Palm Springs Hot Rodeo is underway this weekend, Thursday, May 10–Sunday, May 13. While the Saturday and Sunday competitive rodeo events take place at the A.C. Dysart Equestrian Park in Banning, there's plenty of Hot Rodeo fun happening right here in Palm Springs, including a Hot & Wet Cowboy Pool Party at host hotel Baymont Inn & Suites, on Friday, May 11 from 1:00 to 5:00 p.m. Later that night, headlining performer Brandon Stansell will be at the Out Behind the Shed Kick-Off Party at the Tool Shed, Friday at 8:00 p.m.. Other events include a Saturday night Dancing Under the Stars from 7:00 p.m. to 1:00 a.m., sponsored by Chill Bar, and a Thursday night Dance Contest at Hunters. See the full schedule and get tickets here
---
CVRep Celebrates "Ground-Breaking" of New Home
On Monday, May 7, Coachella Valley Repertory Theatre celebrated the "groundbreaking" of their new location, with an outdoor party in front of their their home at the former IMAX theater in Cathedral City. The evening was a fundraiser as well, to support the work of CVRep, "to present innovative professional productions and outreach programs that enrich, enhance and impact the quality of life for the residents and visitors in the Coachella Valley." Congratulations to CVRep! Don't miss their current production, 2 Across, and keep up to date with their goings-on at cvrep.org
---
Do you love Mexican food and tasty Margaritas combined with a great atmosphere? If you answered yes then you will love Rio Azul as much as we do! Try their delicious tacos, enchiladas and tasty margaritas for an insane price with our one of a kind hot deal! Enjoy $50.00 worth of food and drinks for 40% off. This is a perfect Mother's Day gift and can be used at the famous Drag Brunch on Sunday!
Trio is the place to be this weekend! Enjoy Brunch-A-Go-Go for Mother's Day starting at 10am. Happy hour is from 11am-7pm and they will be serving tasty holiday dinner specials starting at 3pm. Every mother will also receive a beautiful Orange Trio Lily. Make your reservations now!
DID YOU KNOW our Happy Hour Finder now includes Drag Shows, Nightlife along with all the Featured Happy Hours? Always available on your mobile phone when you Add us to your Home Screen, like this.
---
Arthur Lyons Film Noir Film Festival This Weekend
The Arthur Lyons Film Festival returns this weekend, May 10–13, and features an eclectic mixture of landmark and obscure vintage movies from the classic film noir era.
Complete schedule
Get tickets
---
Upcoming Film Festival Dates Announced
Palm Springs International ShortFest 2018 takes place June 19–25, 2018 at the Palm Springs Cultural Center. ShortFest is the largest and best attended short film event in North America. More info
The Palm Springs International Film Festival (PSIFF) has announced the dates of its 30th Season: January 3–14, 2019. Passes, Opening and Closing Night Tickets available August 1, 2018 @ 9am. Individual film and event tickets will be available for purchase in December. More info
Cinema Diverse, the Palm Springs LGBTQ Film Festival, will be held September 20–23, 2018 at the Palm Springs Cultural Center. More info
---
Harvey Milk Diversity Breakfast Coming Soon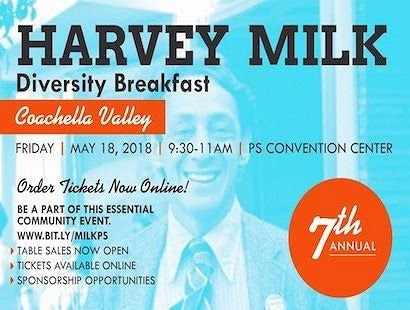 The 2018 Harvey Milk Diversity Breakfast – Coachella Valley will take place on Friday, May 18 at 9:30 a.m. at the Palm Springs Convention Center. The program will honor the memory of Harvey Milk, an American hero, and strengthen coalitions among the many diverse community organizations that support justice and equality for all individuals. Join more than 900 diverse Coachella Valley residents and celebrate the memory of this influential civil rights activist. Get tickets
---
Sammy Hagar Comes to The Show for the First Time
Sammy Hagar, the legendary "Red Rocker," and The Circle, featuring bandmates Michael Anthony, Vic Johnson, and Jason Bonham, will perform for the first time at Southern California's premier concert theater, The Show, on May 17 at 8:00 p.m. Sammy Hagar and the Circle will take fans on a musical journey through rock history with a set list spanning four decades of Hagar's hits from Montrose, his solo career, Van Halen and beyond — and with Bonham on board, they can also expect a few Led Zeppelin classics. Get tickets
---
Weekend Theatre
FINAL WEEKEND
The Desert Rose Playhouse presents the world premiere of a new play, Dare, by Allan Baker, playing Now through Sunday, May 13. Read Dare – Reviewed by Stephen Radosh on our website. Gerontologist Josh has been sent to interview 82-year-old gay activist and stage director Jack to see why he wants to end his life. Jack illustrates in flashbacks the fantastic and inspired tale of his activist life, his one great love, and his plan to stage his "Curtain Call" as carefully and beautifully as he has staged his plays. Get tickets
Coachella Valley Repertory Theatre presents 2 Across, through Thursday, May 20. Two strangers alone on a train, each is married, both are doing the New York Times crossword. She's an organized, sensible psychologist. He's a free-spirited, unemployed ad exec. Two opposites in an enclosed space, attacking each other's values but also being swayed and intrigued by them. Get tickets and see the review just authored by our theatre critic Steve Rados
---
This week in HOT DEALS we've got a major blow out sale for you! Get your drink on at Oscar's Sunday T- Dance for just $10! That's a $25 gift certificate for JUST $10! Don't take your time deciding on this one, these will SELL OUT!
Rick's Desert Grill in Palm Springs offers a huge selection of lunch and dinner items for all appetites. And your appetite won't be able to say no to this awesome deal! $25 of food or drinks for only $15, a 40% discount! Their ample Beer and Wine list makes it a great choice for after work drinks and their food with a Cuban influence at reasonable prices will satisfy everyone's taste, especially moms! So consider taking her to Rick's for a Mother's Day meal this weekend!
---
Top Five Bookmarks of the Week on GayDesertGuide.LGBT
Bookmarks are articles from news sources around the globe, which have featured stories about the Coachella Valley and the great things that happen here. So follow us on social media and keep up with news from sources far and wide.